Transporter Workshop : Emerging Transporters
To Register for the Transporter Workshop, please scroll down
Transporter Workshop Program Guide
| | | |
| --- | --- | --- |
| April 11th, 2019 |   | Organizing Committee |
| Novartis Institutes for Biomedical Research Auditorium |   | Steven Louie (BioIVT), Dallas Bednarczyk (Novartis) |
| 250 Massachusetts Ave |   | Ayman El-Kattan (IFM Therapeutics), Maria Fitzgerald (Sanofi)  |
| Cambridge, MA 02139 |   | Hong Shen (BMS), Guangqing Xiao (Sunovion) |
Plenary Lectures:
Leslie Benet, PhD, Professor, Department of Engineering and Therapeutic Sciences, UCSF School of Pharmacy

Transporters, the Extended Clearance Concept and PBPK Modeling

Kim L. R. Brouwer, Pharm.D., Ph.D., W. R. Kenan, Jr. Distinguished Professor, Associate Dean for Research and Graduate Education, UNC Eshelman School of Pharmacy

The Ins and Outs of An Overlooked Bile Acid Transporter, OSTα/β
Agenda (updated March 6, 2019)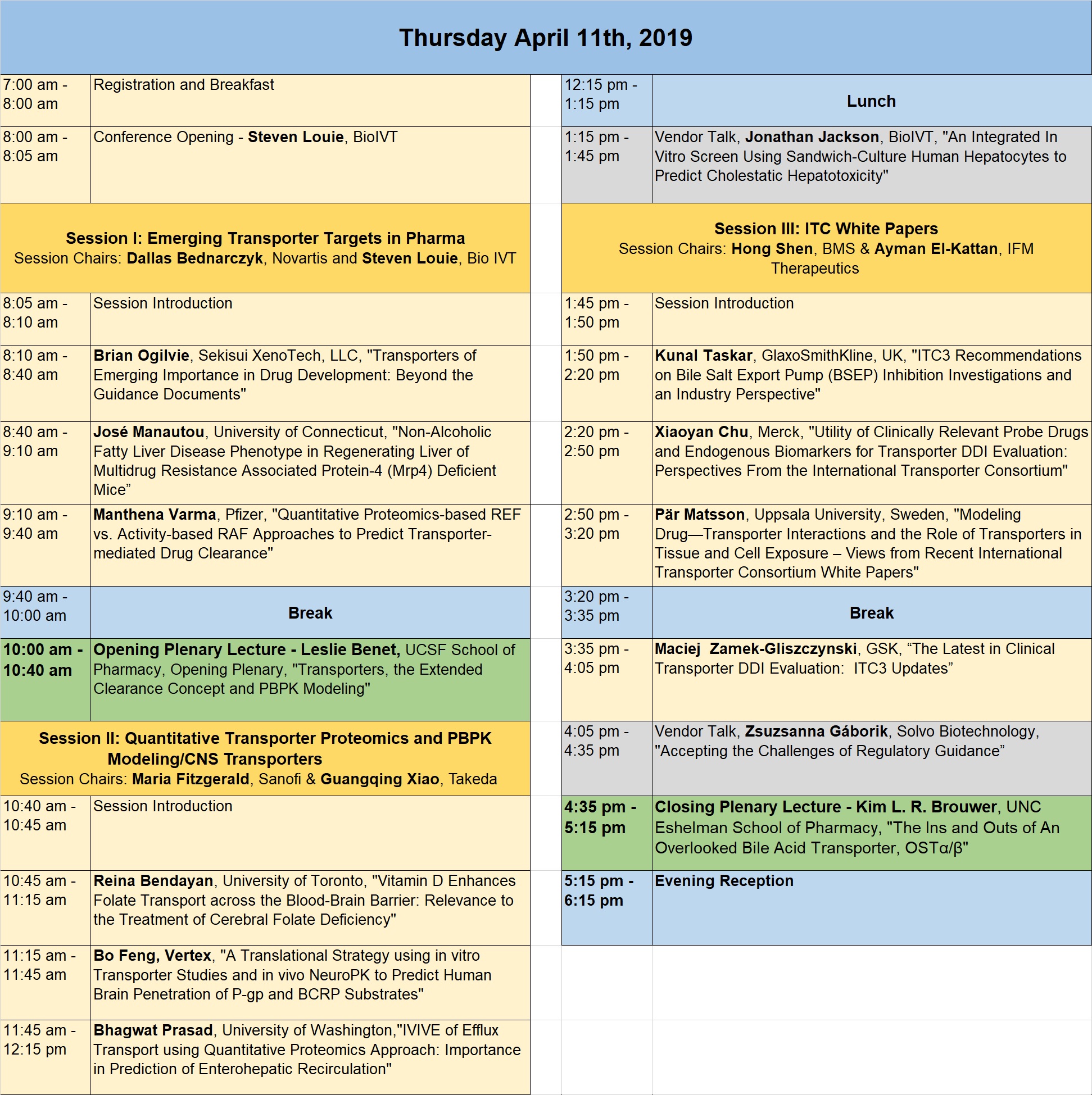 Sponsored By
Transporter Workshop Registration
Online Registration for the Transporter Workshop now open!!!
Online Registration will close Tuesday, April 9th at 5:00 PM. On-site registration will be available the morning of the event
Registration Fees
 

Student Rate

Society Rate

Affiliate Rate

Sponsor

Early Bird Rate until 2/08/2019

150

300

500

300

From 2/09/2019 to 3/08/2019

175

350

600

350

From 3/09/2019 to 4/09/2019

200

400

700

400

On site Registration

250

500

800

500
Students and Post Docs with valid student ID may register for 50% off of the Society Rate.
The "Student Rate" is available for currently enrolled Graduate Students and Student Post Docs.
You will be required to present your valid Student ID card at the registration table.
The "Society Rate" is available for Pharmaceutical Scientists, Academics, and employees of the US FDA.
Note that your institutional affiliation may be reviewed if you elect to register with the Society Rate.
The "Affiliate Rate" is available for CROs, Vendors, and Consultants.
The "Sponsor Rate" is available for sponsors who have signed a sponsorship contract
and wish to register more guests than their free allotment allows.
REFUNDS, SUBSTITUTIONS AND TRANSFERS
Should you need to change your plans to attend the Transporter Workshop, there are multiple options available. You may: 
Transfer your registration to next year's conference

Substitute another colleague from your company or organization in your place

Request a refund of your conference fee. Due to our planning deadlines and costs, this option is unavailable within 30 days of the meeting.
Request for refunds, substitutions or transfers should be sent to our Email Box - This email address is being protected from spambots. You need JavaScript enabled to view it.